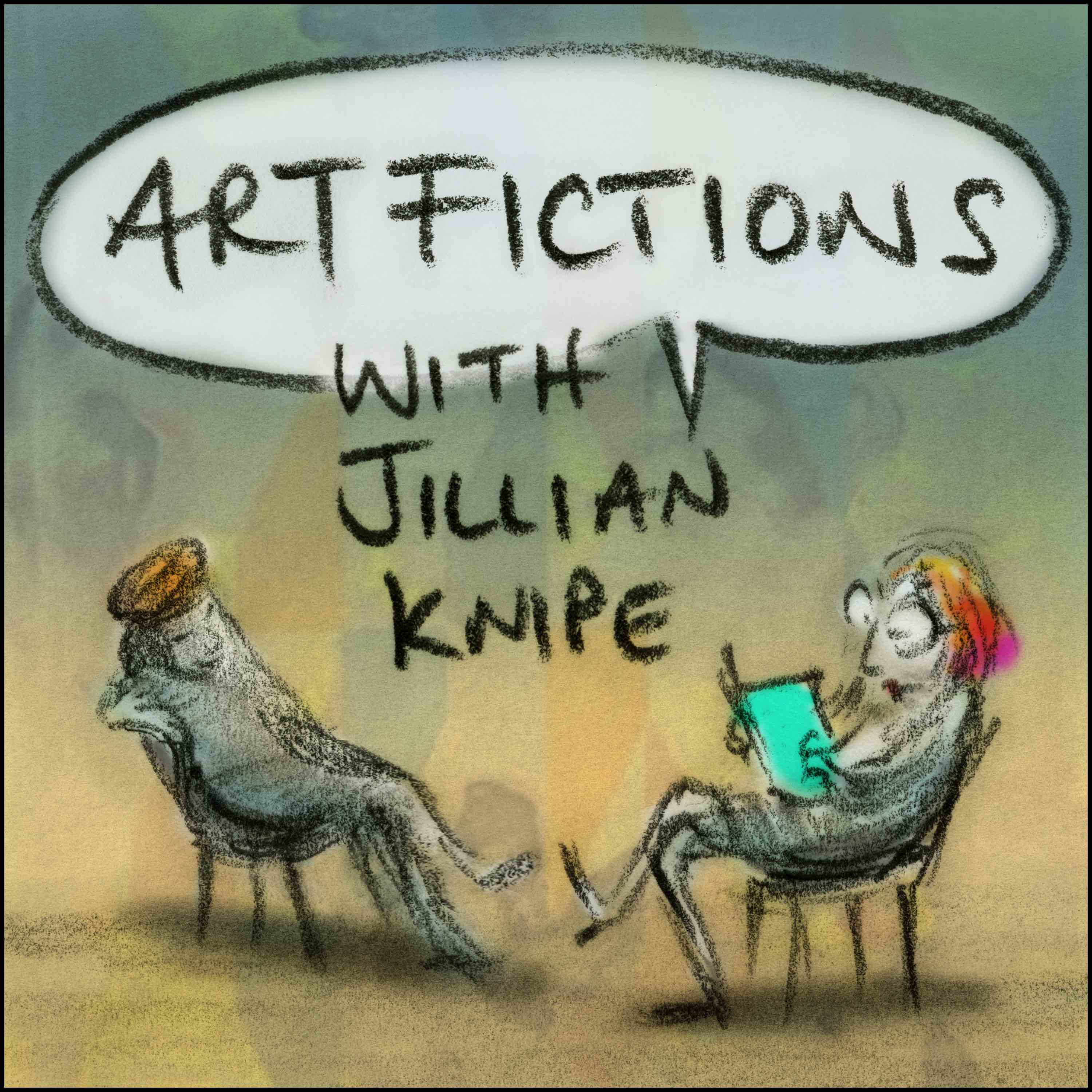 Guest artist FIONA CURRAN 
joins me to chat about her work via Esther Kinsky's 2020 novel 'Grove : A Field Guide'. The story is directed by a narrator who takes a trip to a village on the outskirts of Rome which was supposed to be an adventure with her recently deceased partner. 
Fiona and I go on to discuss how the work of her current solo exhibition developed during lockdown and a nasty bout of covid, as well as an earlier, major outdoor installation. We expand on landscape as a character, contemporary poetry, a balance of bleak and beauty, loss of identity through grief, looking for solace in the landscape, loving everything Italian, beyond the optical, seduction of the screen, the colour blue, extreme fatigue, memory flooding into the present, sanitisation of nature, resurfacing, fragmentation, aimlessness, hovering, disorientation and losing a sense of self. 
(This episode is produced by Jillian Knipe with music by Griffin Knipe and image by Joanna Quinn of Beryl Productions)
FIONA CURRAN 
fionacurran.co.uk
instagram fiona_curran
'Jump Cut, Still Life' solo exhibition at Broadway Gallery
'Your Sweetest Empire is to Please' outdoor installation at Gibson Estate
ARTISTS
Anna Maria Garthwaite
Anni Albers
Florence Peake
Fra Angelico
Gunta Stöltzl
Hannah Luxton
Hélio Oticica
Henri Matisse
Lindsay Seers
Lygia Clark
Lygia Pape
Mary Heilman
Raoul De Keyser
Sonia Delaunay
BOOKS
Anne Truitt 'Daybook : The Journal of an Artist' 1982
Esther Kinsky 'River' 2014
Jeremy Cooper 'Bolt from the Blue' 2021
Joanne Kyger 'The Japan and India Journals 1960-1964' 1981
Linda J Lear 'Rachel Carson : Witness for Nature' 1994
Rachel Carson 'Silent Spring' 1962
Rebecca Solnit 'A Field Guide to Getting Lost' 2005
GALLERIES
Bosse & Baum
Broadway Gallery, Letchworth
THEORISTS & BOTANY
Gibside Estate
Kew Gardens
Mary Eleanor Bows 1749-1800
Mary Wollstonecroft 1759-1797
Paul Virilio 1932-2018
FILM
Michelangelo Antonioni 'Red Desert' 1964 starring Monica Vitti
Pier Paolo Pasolini 'The Hawks and the Sparrows' 1966 'Notes Towards and African Orestes' 1970