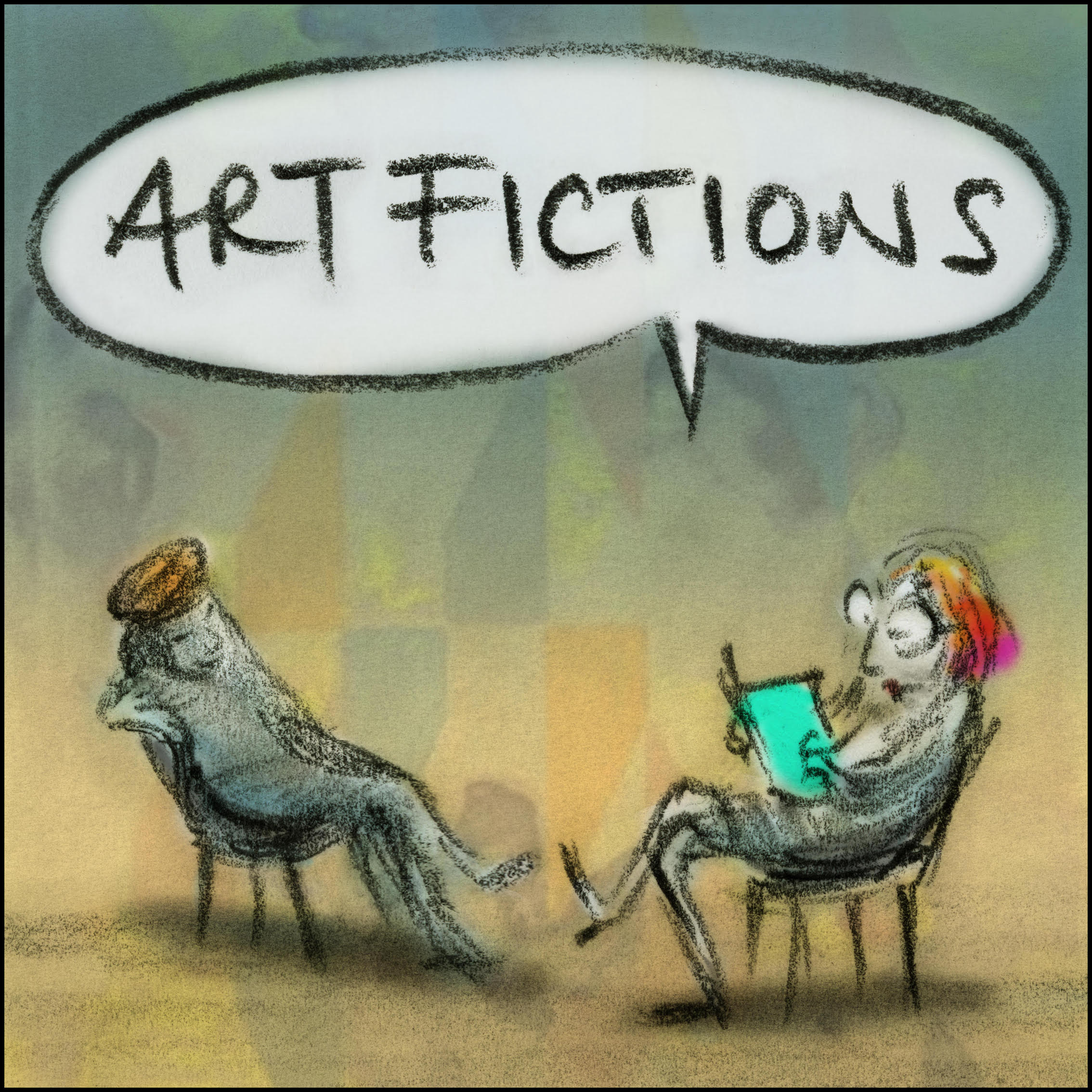 ART FICTIONS is fortnightly programme, created by artist Jillian Knipe. Each guest artist selects a piece of fiction, which we both explore, then use as a lens through which to view their artwork. We delve into the book's themes, context and characters, which opens up and steers a rich conversation about the artist's practice. The podcast bounces back and forth between art and text, all the while focussing on the ideas which govern both. It is a way of talking alongside art, rather than directly at it, getting close and personal with the origins of artistic ideas. Follow @artfictionspodcast Instagram for images of works and links, and see the podcast notes for all the references mentioned. Support via patreon.com/ARTFICTIONSPODCAST.
Episodes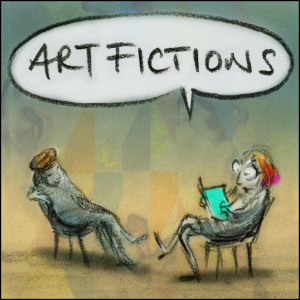 Tuesday Feb 23, 2021
Tuesday Feb 23, 2021
Guest artist MILLY PECK
joins me to chat about her work via Alan Ayckbourn's play 'Taking Steps - A Farce'. Published in 1981 by Haydonning Ltd and first performed at Stephen Joseph Theatre in 1979, the story revolves around a Victorian manor house in faltering disrepair. While the characters upstairs and downstairs their way around three storeys, the play is actually performed on only one floor so that various scenes interact simultaneously. It's then a cacophony of mishaps, misunderstandings and misdirections. Elizabeth wants to leave Roland. Roland wants to buy this tremendous house from Leslie for Elizabeth. Mark wants to marry Kitty. Kitty wants to leave Mark. Tristram, the junior solicitor, is just utterly confused about what's happening and where and by whom, and if all those strange noises are thanks to a resident ghost. 
Milly and I go on to discuss her solo exhibitions, most recently at Vitrine Gallery in Basel, her upcoming residency at British School at Rome and all the work inbetween. Mentions go to foley sound production, the physicality of the stage, playing with dimensions, scale, collage, flattening, inflating, puppeteers, backstage antics, confusing performance with reality, implicating the audience, dark elements shrouded in comedy, hands in gloves, hand in black and hands holding celery. 
(This episode is co-produced by Jillian Knipe and Elizabeth Fullerton with music by Griffin Knipe and image by Joanna Quinn of Beryl Productions)
MILLY PECK
millypeck.com
instagram millypeck
'A Matter of Routine' Vitrine Gallery Basel solo exhibition 
'Loud Knock' Matts Gallery solo exhibition
'Pressure Head' Assembly Point solo exhibition
Works mentioned: 'Alight', 'Moquette', 'The Unforgiving Hour', 'Straphangers'
ARTISTS
Amelia Barrett (performer at Milly's solo exhibition at Assembly Point)
Andrea Montagne
Art Green
Edward Hopper
Emma Cousin ('Chats in Lockdown' podcast host)
Jordan Baseman (Royal College tutor and Art Fictions Episode 10)
Konrad Klapheck
Nick Mauss
Steve McQueen ('Deadpan' 1997)
William Hogarth ('A Rake's Progress' 1732-1734)
ACTORS & DIRECTORS
Bong Joon-ho (South Korean director, screenwriter, producer)
Buster Keaton (silent movies)
Charlie Kaufman (American screenwriter, producer, director, novelist)
David Thewlis
Imelda Staunton 
Mark Ruffalo
Robin Herford (British Theatre Director)
Sir Matthew Bourne OBE (choreographer)
Toby Jones 
GALLERIES & THEATRES
Assembly Point, London 
Goldsmiths CCA, London ('Solos' 2020, 'How! Chicago Imagists' 2019)
Kunsthalle, Basel Switzerland
Little Angel Theatre, Islington London
Matt's Gallery, London
National Theatre Archives
Royal Shakespeare Company, Stratford UK
Sir John Soane's Museum, London
Stephen Joseph Theatre in the Round, Scarborough UK
Vitrine Gallery, London and Basel Switzerland
PLAYS
'A Chorus of Disapproval'
'Fantastic Mr Fox'
'House and Garden' (Alan Ayckbourn dyptich)
'Mr What Not' (Alan Ayckbourn, where the central character does not speak and, otherwise, there is speech and sound)
'Noises Off'
'Relatively Speaking' (Alan Ayckbourn)
'The Red Shoes'
BOOKS & MAGAZINES
'American Zoo: A Sociological Safari' 2015 David Grazien
'Frieze' magazine (review by Kito Nedo 2 Dec 2020)
'Feel Free' 2018 Zadie Smith
FILMS
'Anomalisa' 2015
'Berbarian Sound Studio' 2012 (also performed at Donmar Warehouse)
'Birdman: The Unexpected Virtue of Ignorance' 2014 
'Dark Waters' 2019
'Snowpiercer' 2013 (based on French graphic novel 'Le Transperceneige' by Jacques Lob, Benjamin Legrand and Jean-Marc Rochette)
'Steamboat Bill Junior' 1928