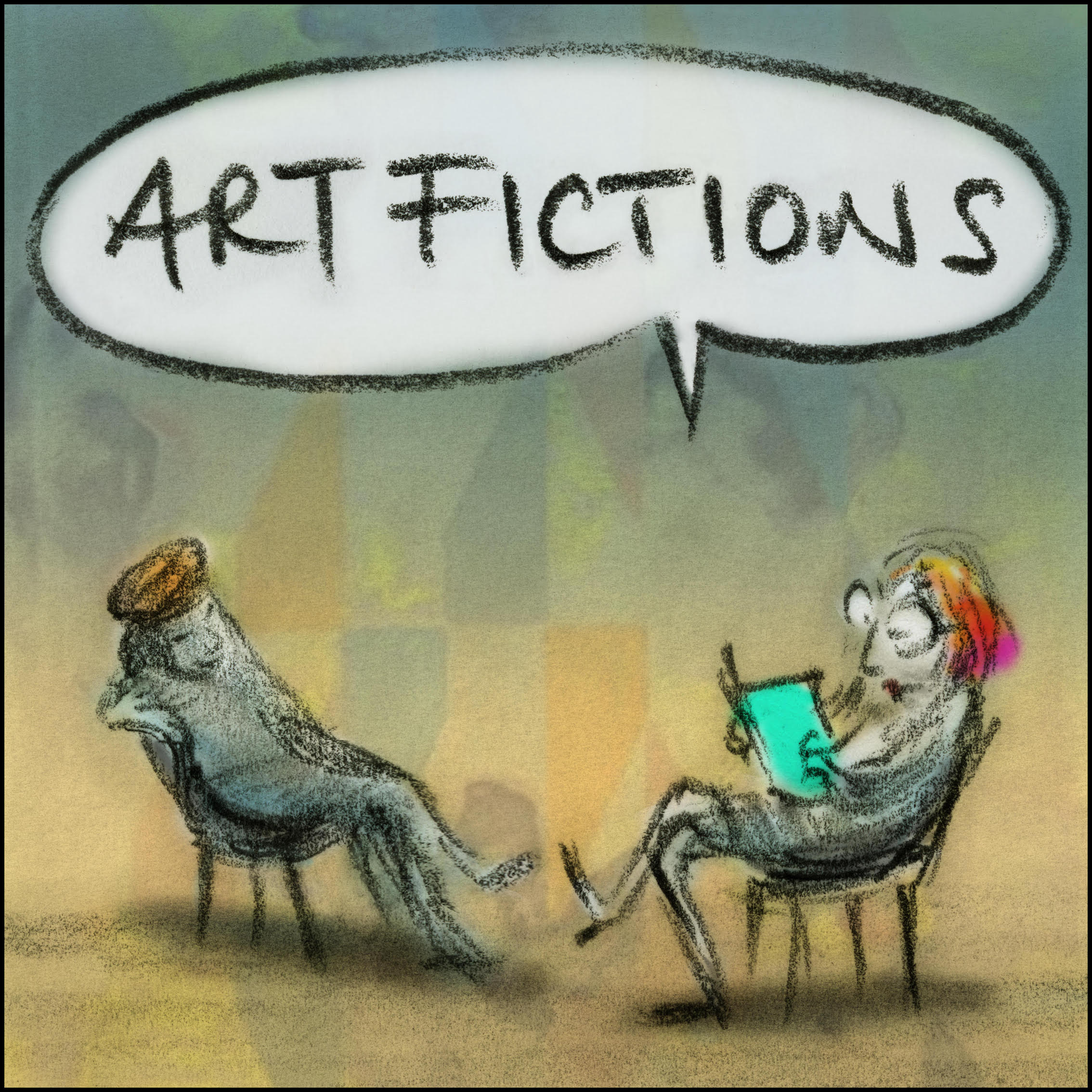 ART FICTIONS is fortnightly programme, created by artist Jillian Knipe. Each guest artist selects a piece of fiction, which we both explore, then use as a lens through which to view their artwork. We delve into the book's themes, context and characters, which opens up and steers a rich conversation about the artist's practice. The podcast bounces back and forth between art and text, all the while focussing on the ideas which govern both. It is a way of talking alongside art, rather than directly at it, getting close and personal with the origins of artistic ideas. Follow @artfictionspodcast Instagram for images of works and links, and see the podcast notes for all the references mentioned. Support via patreon.com/ARTFICTIONSPODCAST.
Episodes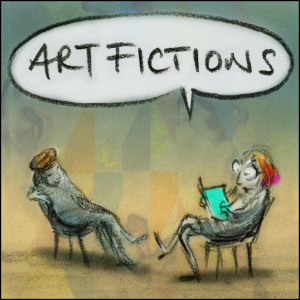 Thursday Nov 18, 2021
Thursday Nov 18, 2021
Guest artist RICHARD AYODEJI IKHIDE
joins Jillian Knipe for this special edition of ART FICTIONS | Culture Exchange which is part of the UK/Australia Season, a partnership between the British Council and the Australian Government's Department of Foreign Affairs and Trade.
Richard and I discuss his disjointed cultural story, via Amos Tutuola's second novel 'The Bush of Ghosts', published in 1954. We follow a young boy, separated from his mother and brother, into a forbidden place of ghostly slavers, violators, friends and foe, as he navigates his way through a foreign land, coming to understand his sense of rightfulness and identity. 
We go on to discuss Richard's formative years in Nigeria, a country whose name itself is stained with the nasty history of colonial subjugation. He speaks of his paternal lineage, steeped in story telling, from an area of the world, rich with artisans and stolen artworks. His world suddenly changes in his teens when he and his brother arrive in the UK to live with his mother. At this point, his own negotiation in a new land begins. 
Our conversation expands on Richard studying drawing and textiles, and researching mythologies, semiotics, rituals, archetypes and visual systems. He describes the courses he's developed at The Royal Drawing School which attempt to inform students about the global lineages of and connections between imagery, representations and artistic practices across different cultures. His observations uncover the unexpected around petroglyphs, nazca lines and stone tablets of the ancient past to glass tablet phones and emojis of the high tech present.
RICHARD AYODEJI IKHIDE
instagram pandagwad
EXHIBITIONS
February 2022 - Galerie Bernhard in Zürich 
WORKS
'Awon Osere' 2020 watercolour and ink on paper
'Contemplating with Effigies' 2020 oil on wood
PODCAST
The Compendium Podcast with Dexter Orszagh 
BOOKS & WRITERS & SCREEN
Alejandro Jodorowsky & Juan Giménez 'The Metabarons' or 'The Saga of the Metabarons'
Alex Grey 'The Mission of Art'
Amos Tutuola 'My Life in the Bush of Ghosts' 
Amos Tutuola 'The Palm Wine Drinkard'
Carl Jung 'Man & His Symbols'
Erich Neumann 'The Origins and History of Consciousness'
Joseph Campbell 'Hero with a Thousand Faces'
'Joseph Campbell and the Power of Myths' Netflix
Simon Blackburn, philosopher
'Spirited Away'
'Tales by Moonlight' Nigerian Television Authority
ARTISTS
El Greco
Giacometti
Giotto
Picasso
William Blake
COUNTRIES & CULTURES & HISTORIES
Ancient Greece
Benin Empire 1440 - 1897
Benin Expedition : Or the Benin Punitive Expedition in February 1897. Invasion of the Kingdom of Benin by the British Empire. After which Benin was absorbed into colonial Nigeria. Approx 2,500 religious artefacts, mnemonics and artworks were taken by Britain, including the Benin Bronzes, then around 40% were given to the British Museum.
Benin Bronzes :  A collection of metal plaques and sculptures created by the Edo people from the 13th century onwards, which once decorated the royal palace of the Kingdom of Benin. Over 1,000 items were taken by the British as part of the Benin Punitive Expedition. 
Biafra War 1967 - 1970 : Civil war between Nigerian government and the Republic of Biafra.
Brazil
Christianity
Cuba
Egypt
Ghana
Ifá gods
Igbo people
Mesoamerica
Nigeria
Sabongida-Ora, Edo state
Yoruba
ARTS ORGANISATIONS
British Museum
Central Saint Martins
National Gallery
The Royal Drawing School
Zabludowicz Collection